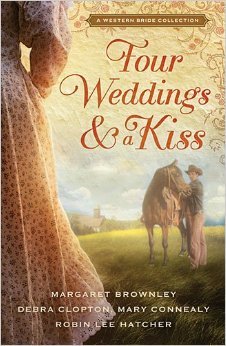 Four Weddings and a Kiss by Margaret Brownley

My rating: 4 of 5 stars



Suggested Age: 14+
Genre: Christian, Historical Fiction
It took me a bit to get into this book…I'm not sure why because once I got started, I really enjoyed it. I thought the book had a pretty fast pace to it but I didn't connect with the characters as much as I'd hoped. I think maybe because the four stories were nearly stand alone and were only tied together by the prologue and epilogue. That's the only thing I would have changed about this book. I would have made the story flow a bit better together.
Spitfire Sweetheart by Mary Connealy
Maisy MacGregor's reckless ways injured rancher Rylan Carstens, endangering his livelihood. So she signs on as his caregiver – but just until he's well enough to run his ranch. Maisy's tender care soon has Ryan falling hard and fast. Can these two willfull souls give up their solitary ways to embrace love?
My thoughts: I am not sure why but this one bugged me. I felt like Rylan was a bit too overbearing and only changed his ways to get what he wanted, Maisy. The story was well written but I found Maisy and Rylan both to be a bit overbearing
A Love Letter to the Editor by Robin Lee Hatcher
Molly Everton writes the most popular features in her town's newspaper. When newcomer Jack Ludgrove is named the new editor, Molly is flabbergasted. She wants the position for herself and will do what it takes to get it. But Jack is not easily intimidated. He's determined to change Molly's mind about him – and win her heart too.
My Thoughts: I thought this story was okay, a bit rushed but I really liked Molly and Jack. As it is a short story, I understand why it felt so rushed but I really wanted to slow things down and get to know these likeable characters a bit more.
A Cowboy for Katie by Debra Clopton
Katie Pearl must rebuild her ranch after the tornado, but she can't do it on her own. Treb Rayburn is a cowboy with a serious case of wanderlust. He signs on to help Katie so he can afford a new horse. But once Treb gets to know Katie, will his desire to stay drown out the call of the open road?
My Thoughts: This one was my favorite! I really enjoyed this story and I nearly wish it'd been a full novel. I felt so much for Katie and I appreciated that Treb was willing to take care of her without wounding her pride. Wonderful plot and story.
Courting Trouble by Margaret Brownley
Grace Davenport is a young widow in a heap of trouble. When her son asks attorney Brock Daniels to take on her case, Brock wants to say no, but then he meets the lovely Grace. As Brock and the boy work to free Grace, Brock discovers that her arrest may be the best thing that's ever happened to him.
My Thoughts: I know, I said that 'A Cowboy for Katie' was my favorite but this one is a very close tie! There was a bit of humor and just a sweet simple romance. It didn't really read like a cowboy tale like the rest of the stories but it was a very pleasant read.
Overall: A very solid 4 star
View all my reviews
Amazon|CBD|Barnes&Noble
**Margaret Brownley is a NEW YORK TIMES best-selling author and has penned more than thirty novels. Her books have won numerous awards and has written for a TV soap opera. @margaretbrownley
**Robin Lee Hatcher is a Christy and RITA award-winning author. She is the author of over seventy novels and her work often appear on bestseller lists. @robinleehatcher
**Mary Connealy is an award-winning author of romantic comedy with cowboys. Mary and her Nebraska rancher husband have four grown daughters and two spectacular grandchildren. @MaryConnealy
**Debra Clopton is an award winning author of sweet, heartfelt, western romance that face life with a smile. With over 2 million books in print, Debra's first book-to-movie aired on ABC Family and starred LeAnn Rimes. @debraclopton
I received this book free from the publisher through a fantastic program called Litfuse Publicity. I was not required to write a positive review. The thoughts and opinions I have expressed are my own. To view other reviews and learn more about the blog tour for 'Four Weddings and a Kiss' please visit the Litfuse group by
clicking here