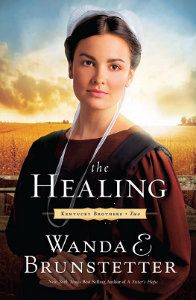 The Healing by Wanda E. Brunstetter

My rating: 5 of 5 stars


The Healing is part two in the Kentucky Brothers series by Wanda E. Brunstetter. It picks up where The Journey leaves off--in the midst of a family tragedy. In this story we follow Samuel through his grief and through the pain of losing his wife, Elsie and their unborn child in a terrible accident.

Samuel is heartbroken at the loss of his wife and child. The pain of living in their home without her is more than he can bear. He decides to move to Kentucky to be near his brother Titus who was the first of the brothers to relocate from Pennsylvania to Christian County. Samuel decides that the move is for the best and hopes for a new start so that he can work through his depression and move on with his life. For his sake and for the sake of his four living children.

When he arrives in Kentucky he meets Titus' new friends, including Esther, who offers to watch his children so that he can start a new job. When Esther's folks move out of town, she remains behind to work at a local bed and breakfast which frees up her old home for Samuel to rent if he so desires.

As Esther continues to watch his children, she begins to have feelings for Samuel but he is so caught up in his grief that he pushes all thoughts of her aside. He also worries that falling for Esther will betray the memory of his loving wife.

As time goes on, Samuel has to make some hard decisions. Does he continue wallowing in depression and self pity? Or does he turn his grief and despair over to God and allow God to heal his wounds?


"He healeth the broken in heart, and bindeth up their wounds. -Psalm 147:3"
A touching journey of faith and healing that is sure to touch any heart that has experienced loss. The author shows exceptional care and understanding about God's word and the comforts that He gives to us in our times of trouble. I loved this series. I'm sad that I've now read all three parts and I have had to say goodbye to such a lovely group of characters.
Read Chapter 1 of The Healing (PDF)
View all my reviews