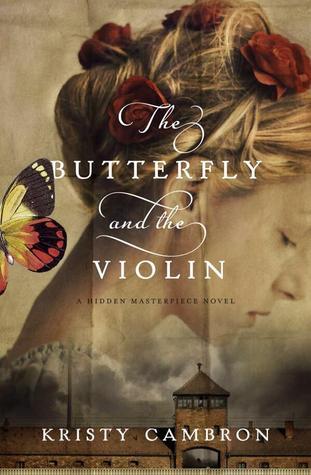 The Butterfly and the Violin by Kristy Cambron

My rating: 5 of 5 stars

★: Didn't Like it
★★: It was Ok
★★★: Liked it
★★★★: Really liked it
★★★★★: It was amazing

Suggested Age: 18+
Genre:Historical Fiction, Christian Fiction
This is a new author to me—as you all know, that is something I always fear. However, my fears were unfounded. This story is so beautifully written and gripping. I brushed away tears at times because I know that the fears and the horrors of Auschwitz were real. Those horrors had to be worse than can be conveyed in a fictional account.
This book has two storylines; Present day America and 1942, Vienna. Adele is the daughter of a ranking Nazi officer and an accomplished concert violinist. She is expected to play with the Vienna Philharmonic for the Nazi regime, to bring honor to the Führer.
Adele harbors a secret—one that will transport her from a life of luxury and promise to the depths of despair in Auschwitz. Fearing that her love is dead, Adele struggles with trusting God and finding purpose and the will to survive in the concentration camp.
If it were not for her ability as a musician, in fact, Adele likely wouldn't have survived at all. Within the walls of the concentration camp, Adele is given the gift of love and of family that a life of luxury had never provided.
Captured in time in a war-time painting, Adele's history is shrouded in mystery for Sera and James. Unsure of her story and uncertain that she even survived, Sera feels driven to unravel the mysteries of Adele. James, he has entirely different reasons for tracking down the owner of the painting. When their reasons for their search threaten their budding romance, both must question God's will for their own lives. Will Adele's story help them find the answer to their own life problems or will it drive them further apart?
If you're a fan of historical fiction or interested in WW2 fiction, I strongly suggest this book. It's one of the best that I've read this year and I look forward to more in the Hidden Masterpiece series. Look for
A Sparrow in Terezin
to be released in 2015!
View all my reviews
|
Excerpt
Amazon|CBD|Barnes&Noble
Kristy's been fascinated with the WWII Era since hearing her grandfather's stories of his experiences as a B-17 co-pilot in the war. She writes WWII and Regency Era historical Christian fiction titles. THE BUTTERFLY AND THE VIOLIN, Book One in the
A Hidden Masterpiece
series on the prisoner camp art of Auschwitz, will release from Thomas Nelson Publishers in July, 2014.
She's a proud Hoosier, living in Indiana with her husband and three football-loving sons, where she can probably be bribed with a coconut mocha latte and a good Christian fiction read.
Disclosure of Material Connection: I received this book free from the publisher through the BookLook Bloggers
book review bloggers program. I was not required to write a positive review. The opinions I have expressed are my own. I am disclosing this in accordance with the Federal Trade Commission's 16 CFR, Part 255 : "Guides Concerning the Use of Endorsements and Testimonials in Advertising."