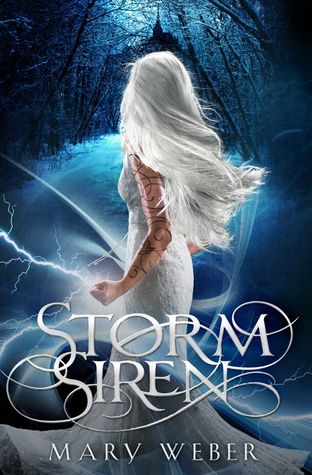 Storm Siren by Mary Weber

My rating: 1 of 5 stars
★: Didn't Like it
★★: It was Ok
★★★: Liked it
★★★★: Really liked it
★★★★★: It was amazing

Suggested Age:18+ Genre:Fantasy
I've sat on writing this review because of how I felt. I kept thinking that maybe I would change my mind but I haven't. If this book had been published by a secular publishing company and had it not been labeled as YA. I honestly wouldn't have rated as a one star. I'd probably have given it a three and that's largely because the author had this annoying issue with "counting." I counted, one, two, three, a gazillion times that she felt the need to count in the manner in which I just did. I felt like I'd fallen in the mad hatter's hat, transported myself into Wonderland and suddenly, I'm five years old and learning to count.
I'm trying really hard to keep the snark and disdain for this book out of my review but given how far from "Christian" this book is...I'm having a hard time of it. If it looks like mud, it's mud. This looks nothing like Christianity. To be a Christian means to have a Christ like character. This book is a very poor example and has absolutely no business being classified as a Christian genre, nor in being published under a Christian banner. I'm not just a prude, I have read many books with content that is less than squeaky clean; Terry Goodkind's Sword of Truth series comes to mind. However, this book is not what it claims and that is what bothers me.


Everything that is wrong with this book
1-Eluding to child abuse or sexual abuse of a child. I feel there is a fine line that simply becomes too much for young teens to handle. There also becomes a point in which descriptions become too graphic for this age group. I'll give an example from Storm Siren that stuck out at me as inappropriate and in contrast, a similar situation in The Hunger Games that was appropriately vague.
Storm Siren:
"Suddenly he's on top of me, with both hands around my neck, choking me so I can't breathe. I bring my knee up, but he's too quick. His leg crushes against my injured thigh"


"An awkward hush falls. The man's perverse pleasure is tangible as again he lifts the reins. But this time he doesn't stop until her feet are off the ground and the little girl's expression has exploded into full blown terror. She is kicking, flailing, gasping. Choking at the end of her noose. And he's enjoying every second of it. I shut my eyes and feel the throbbing of my own neck. One...two...three heart pulses, and abruptly there's a pause in the air. As if the wind itself is holding her breath. And then the sounds of a choked spasm, so fragile in its hopelessness, signaling what I already knew. He's going to let her die. But I can't."
The above quote involves a five year old child! No one really wants to read that...no one. Okay, maybe people without children won't mind reading that. If you have a child, it becomes incredibly hard to read about any kind of violence against children and this is just one example of several in Storm Siren.
In contrast, there is this quote from
The Hunger Games
which as you can see, it lets a person know what is going on while remaining vague for the younger audiences.
"President Snow used to… sell me… my body, that is," Finnick begins in a flat removed tone. "I wasn't the only one. If a victor is considered desirable, the president gives them as a reward or allows people to buy them for an exorbitant amount of money. If you refuse, he kills someone you love. So you do it."
The drawn out description of the treatment of the young slave girl in Storm Siren leaves little to the imagination and alludes to exactly what she is being purchased for. It tipped the scale from vague on into graphic which would be more appropriate in an adult book
2- Self harm and mutilation. I handled this situation much better until I read the thank you note at the end of the book
Through the book you have content such as the following
"The fresh, sticky blood swirls around the old memorial tattoos in my skin. The ones already stained into my flesh in suffocating threads entwined around my bones. I lean against the stone of my room's fireplace and push the knife blade further into my arm, just above my elbow, until the scorching pain sucks the air from my lungs."
From the thank you notes-
"Thus this page comes stained with tear drips and blood spatters, markers showing just how deeply you've engraved your name on my world."
Following the themes of self-mutilation, this single phrase just popped out at me as someone who has a particular interest in self-harm. It also makes me fear for young adults who would read that and form this romanticized view of cutting. I felt the ending in which she overcomes her desire for mutilation was shattered with that single line in the thank you notes following the story.
3. Cursing Substitutions. "What the hull" is too much like "What the hell" to be blunt. This was not the only curse word substitution but the most prevalent so I will leave it at that. I would have had no issue with "muttering a curse under her breath" or a vague phrase of that nature is more appropriate for the Christian genre. I simply hold that Christian label to a higher standard.
With my mixed emotions over the content and the thought that it was a bit too graphic for young adult, I went to
goodreads
to see what others were thinking. I was completely floored by the comments and reviews. I understand that you all cannot control what people write in a review. However, when I see this type of response it solidified to me that this book did not reflect a Christian label nor did it generate a Christian response.
Again, I know you can't control what people say in reviews. But, should a faith-based book really generate this type of
response
?
View all my reviews
"I raise my chin as the buyers stare. Yes. Look. You don't want me. Because, eventually, accidentally, I will destroy you."

In a world at war, a slave girl's lethal curse could become one kingdom's weapon of salvation. If the curse—and the girl—can be controlled.

As a slave in the war-weary kingdom of Faelen, seventeen-year-old Nym isn't merely devoid of rights, her Elemental kind are only born male and always killed at birth — meaning, she shouldn't even exist.

Standing on the auction block beneath smoke-drenched mountains, Nym faces her fifteenth sell. But when her hood is removed and her storm-summoning killing curse revealed, Nym is snatched up by a court advisor and given a choice: be trained as the weapon Faelen needs to win the war, or be killed.

Choosing the former, Nym is unleashed into a world of politics, bizarre parties, and rumors of an evil more sinister than she's being prepared to fight . . . not to mention the handsome trainer whose dark secrets lie behind a mysterious ability to calm every lightning strike she summons.

But what if she doesn't want to be the weapon they've all been waiting for?

Set in a beautifully eclectic world of suspicion, super abilities, and monsters, Storm Siren is a story of power. And whoever controls that power will win.
Ya know...this is one time when I'm not even telling you where to purchase a book. If you want it, you can google for it. I won't suggest this book, nor will I endorse it in any fashion.
M. Christine Weber is a ridiculously uncoordinated girl plotting to take over make-believe worlds through books, handstands, and imaginary throwing knives. She lives on the breathtaking California coast with her three homeschooled children and an engineering husband who looks strikingly similar to Wolverine.
Her writing experience includes card copy for Hallmark, articles and short stories for newspapers and e-zines, and educational curriculum for a non-profit, although she can also type a mean grocery list when necessary. On her days off, you can find her penning book reviews or conducting silly interviews here at mchristineweber.com amid drinking lattes and instructing her kids on the finer aspects of world domination.
Disclosure of Material Connection: I received this book free from the publisher through the BookLook Bloggers book review bloggers program. I was not required to write a positive review. The opinions I have expressed are my own. I am disclosing this in accordance with the Federal Trade Commission's 16 CFR, Part 255 : "Guides Concerning the Use of Endorsements and Testimonials in Advertising."