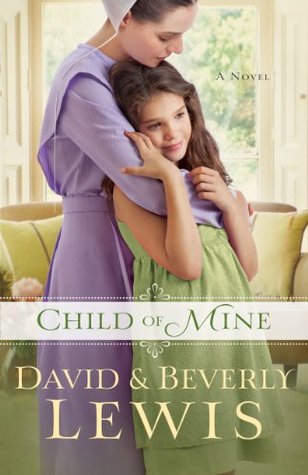 Child of Mine
by
David Lewis
My rating:
2 of 5 stars
★: Didn't Like it
★★: It was Ok
★★★: Liked it
★★★★: Really liked it
★★★★★: It was amazing
Suggested Age: 12+
Genre: Christian, Amish Fiction
This is the first Beverly Lewis book that I rated at two stars and it near broke my heart to do it because I really like this author. She's a sweet lady and is so wonderfully friendly to her fans.
I always promised myself to be honest in my reviews and while this book was well written—I was really upset at the ending. I felt like the entire existence of Laura in the story was pretty much unneeded for how the story ended and I disliked how dishonest Kellly was.
Kelly…sigh…I can't say too much without completely giving away the storyline but let's just say—I don't like her. I don't like how she mooched off people even if for a good reason, I don't like how she lied and I sure don't like how she completely forgot a certain person. I'll leave it at that. This is simply my opinion and is in no way a downrating of the writing itself. I just couldn't make myself like how this ended. I do LOVE the picture on the cover, though!
Jack is raising his niece Natalie after the death of her parents some years back. As he travels, Natalie is cared for by her Amish nannie, Laura.
Kelly Maines is looking for her child who was taken from her by her husband and sold illegally on the black market for big bucks. After many years of looking—Kelly thinks that she's finally found her daughter.
Kelly thinks that Natalie is her daughter and rather than being honest with Jack, she decides to keep her intentions of having Natalie DNA tested to determine if she is her daughter.
She never expected to fall in love with Jack and her tireless search for her daughter may tear apart the budding romance.
In conclusion, I think a lot of people will love this book. I simply couldn't bond with the characters. Five stars on the writing but I give it a two based on that fact, alone.
View all my reviews
|
Excerpt
Amazon|CBD|Barnes&Noble
Beverly Marie Jones (Lewis) was born in the heart of Amish country—Lancaster, Pennsylvania. At the tender age of nine, she began writing short stories and poetry.
Beverly's first venture into adult fiction is the best-selling trilogy, The Heritage of Lancaster County, including The Shunning, a suspenseful saga of Katie Lapp, a young Amish woman drawn to the modern world by secrets from her past. The book is loosely based on the author's maternal grandmother, Ada Ranck Buchwalter, who left her Old Order Mennonite upbringing to marry a Bible College student. One Amish-country newspaper claimed Beverly's work to be "a primer on Lancaster County folklore" and offers "an insider's view of Amish life."
A member of the National League of American Pen Women, as well as a Distinguished Alumnus of Evangel University, Lewis has written over 80 books for children, youth, and adults, many of them award-winning. She and her husband, David, with whom this book was written, make their home in Colorado, where they enjoy hiking, biking, and spending time with their family. They are also avid musicians and fiction "book worms."
You can find out more about this author by visiting her website at
http://www.beverlylewis.com/
I received this book free from Beverly House Publishers. I was not required to write a positive review. The opinions I have expressed are my own