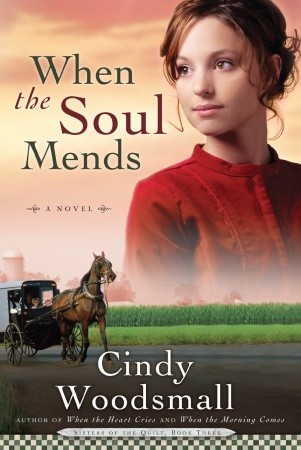 When the Soul Mends by Cindy Woodsmall

My rating: 5 of 5 stars
★: Didn't Like it
★★: It was Ok
★★★: Liked it
★★★★: Really liked it
★★★★★: It was amazing

Suggested Age: 18+
Genre:Amish Fiction, Christian Fiction
This book is the beautiful conclusion to the heart-touching,
Sisters of the Quilt Trilogy
.
I wish that I could put into words how much this series means to me. I'm sitting here trying to type this review and my heart wants to pour out all the wisdom that I learned from Hannah and yet my mind can't form a sentence that does it justice. This is one of the best Amish Fiction stories you will ever read. You will cry, you will laugh, then you will cry some more.
Hannah's story can be difficult to read in places. She has suffered things that no woman should ever have to suffer. Nevertheless…she finds peace in the Lord Jesus and she becomes this beautifully strong and vibrant woman who doesn't let her past determine her future.
Beautifully written and very touching, this is a series that I will read again.
Hannah's soul is mending and her life is going forward. She has a ready-made family in Martin. But, is it enough? Martin means well but Hannah struggles to fit into his fast-paced life.
Hannah also feels a need to help her trouble sister and Martin doesn't have the same sense of family that she has. He's a great guy, don't get me wrong, but he and Hannah have quite a few differences that need to be worked out if they plan to have a successful relationship.
Further, Hannah has been thrown into a situation that puts her in close proximity of her old love, Paul. Of course, non-shocker, Paul is still in love with Hannah. She, however, still feels a lot of bitterness over his treatment of her when he had first discovered her pregnancy.
To further complicate things, Hannah discovers something about herself and her health that has the power to change everything in her future…again. Will Martin accept what Hannah has to tell him or will it be Paul that picks up the pieces?
Either way, you won't be disappointed! I don't want to spoil things but I think you'll be pretty happy with the conclusion!
View all my reviews
|
Excerpt
Amazon|CBD|Barnes&Noble
Cindy Woodsmall is a New York Times best-selling author who has written six novels, three novellas, and Plain Wisdom, a work of nonfiction coauthored with her dearest Old Order Amish friend, Miriam Flaud. She's been featured on ABC Nightline and the front page of the Wall Street Journal, and has worked with National Geographic on a documentary concerning Amish life.